Don't feel like reading?
Watch our Kickstarter Video
Take your DnD 5e session to the next level by streamlining your gameplay with our easy-to-read and space-saving reference cards! Every card is designed to highlight important numbers and features with abridged descriptions you can quickly reference so you can get back to the game.
Present creature art to your players with our folded card design without revealing what the creature is, preserving the mystery and making use of player d20 identification rolls. Each card's smaller footprint and standing design will save you valuable space behind the screen, and their hanging design will keep their stats in easy view. Don't be bogged down with page turning! Leave those heavy books behind and focus on your gameplay!
Creature art facing players has no name to maintain mystery and use identification rolls
Detailed color coded creature stats facing game master
Abridged descriptions for quick referencing
Designed to highlight important information
Size: 2.5 x 3.5 inches folded
Durable Matte Laminated for long lasting quality
Cards fit standard 2.5 x 3.5 inch card pocket pages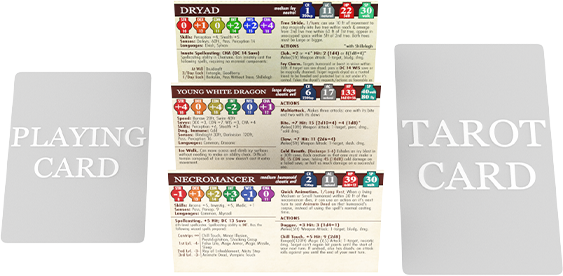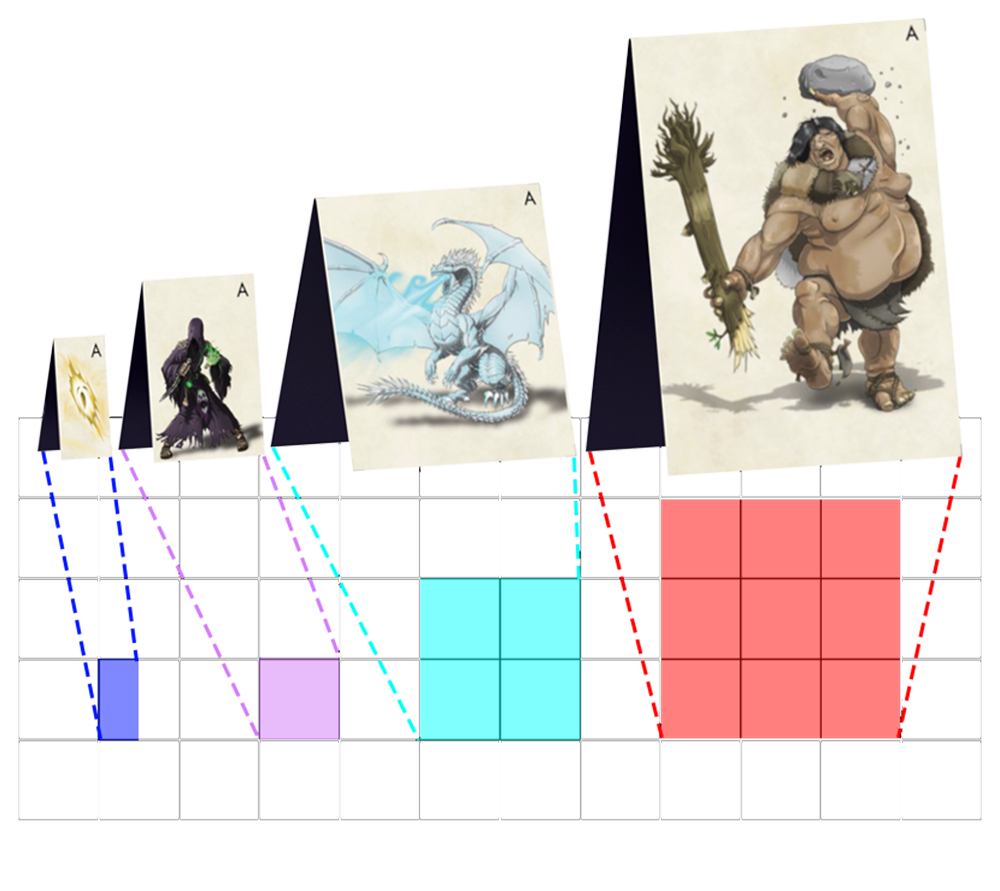 Summon your creatures to the battlefield and craft immersive combat scenarios with your own army of illustrated paper minis. Their alphabetical labels help Game Masters and players keep track of each individual creature and their stats, eliminating the guesswork of what happened to whom and for how much damage. Affordable and portable, bring hundreds of creatures and NPCs to any table and always be prepared for when the party goes off the rails!
Gone are the days of using jelly beans and marbles in unplanned encounters! Illustrate your battlefield!
Sized for grid battle maps: Tiny, Small/Medium, Large, Huge and Gargantuan as applicable.
Labeled to track stats and initiative
Mini art matches art on reference card
Durable Matte Laminated for long lasting quality
Can be used with card stands for easier handling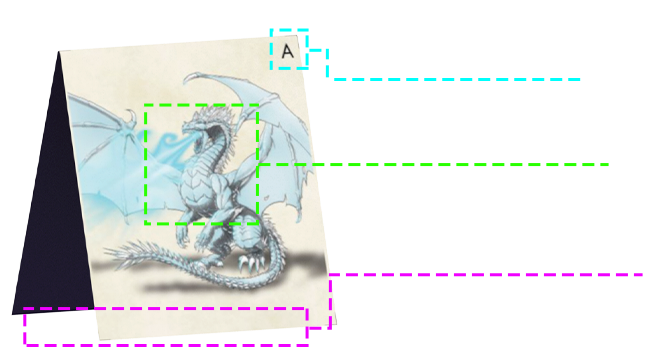 Summon your creatures in style with our beautifully designed and easy-to-use handmade studded leather Tome! Organize and transport all of your reference cards, paper minis, and more in this versatile 1" three-ring binder, freeing up space behind the screen from heavy reference books and bulky armies of miniatures. Elevate your DM Toolkit with the elegantly purple Royal Tome or intimidate your players with the ominously black Ebony Tome.
Wherever you are, you'll be prepared for any encounter!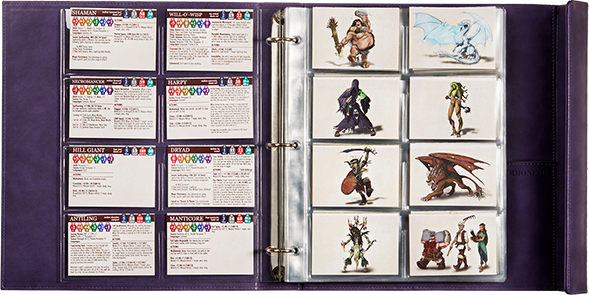 Designed to hold two Tome of Summoning Reference Card & Paper Mini packs
Dimensions: 10.5 x 11.75 x 2 inches approximately
Available colors: Royal and Ebony
Material: PU leather (artificial polyurethane leather)
Includes 25 horizontal pocket pages (8 pockets per page)
Keep your secrets in style behind our bold and elegant handmade leather Dungeon Master Screen! This four-panel screen comes with our own collection of commonly used rules and tables designed for quick referencing and ease of use with player stat panels at the top. Each panel has a clear A4 sized plastic pocket compatible with wet-erase markers, perfect for quick note taking. You can even trade our reference sheets out for your own to fit your DM style, and the compact design makes it easy to transport to any table. Exude opulence with the elegantly purple Royal screen, or intimidate your players with the ominously black Ebony screen.
Elevate your game mastery and order your screen today!
4 pages of Rules and Tables for DnD 5e
4 panels with A4 sized clear plastic pockets
Wet erase marker compatible
Dimensions: Approx. 9.25 x 11.5 x 1 inches approximately (closed)
Available colors: Royal and Ebony
Material: PU leather (artificial polyurethane leather)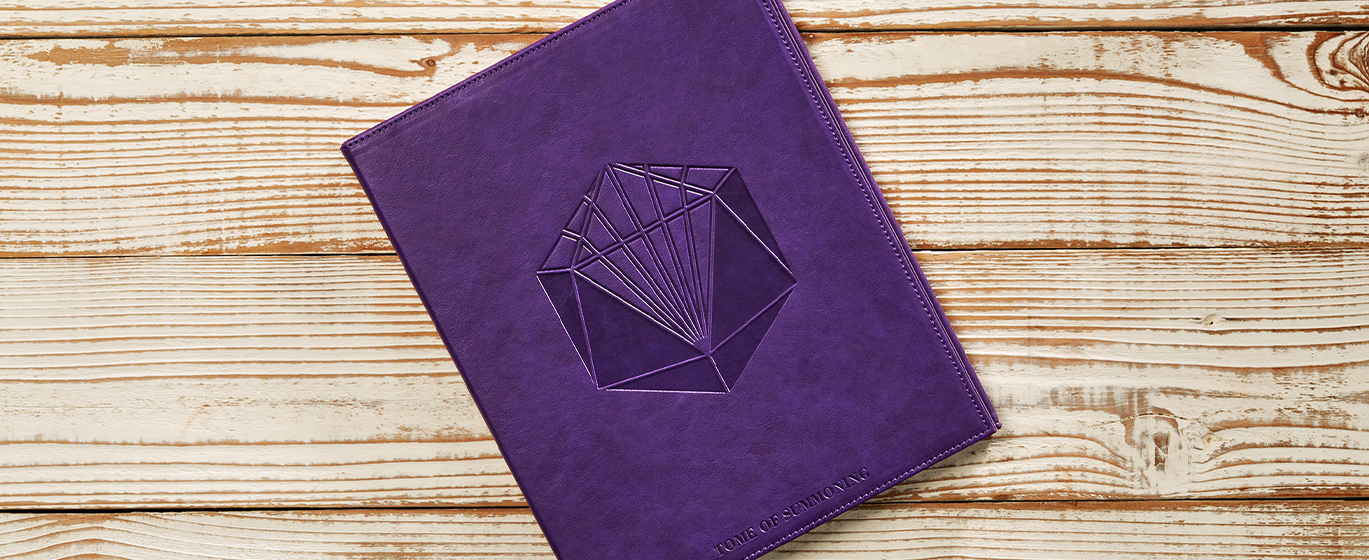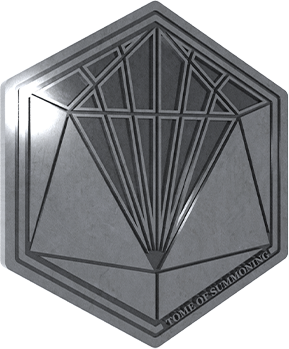 Give your inspiration awards some weight with our intricately designed metal Inspiration Coin/s for any TTRPG game! Your players will truly feel inspired with the unique hexagonal shape and beautiful raised design perfect for any game master looking for something more tangible and fun to hand to their players for tracking inspiration. They can also be used as a D2, for luck, or just for fiddling around while you wait for your next turn!
Dimensions: 1.3 x 1.5 inches approximately
Material: Zinc Alloy with Silver Antique Finish
Beautifully designed Winged Sword and Tome of Summoning Logo sides